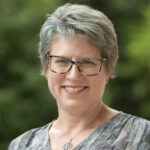 I am the Charles A. Dana Professor of Political Science and International Affairs at Berry College. I teach courses in International Relations and I am faculty advisor to Berry's Model United Nations club. My research interests include international institutions, global environmental politics, and international security.
Courses I teach:
Contemporary World Issues, Contemporary Global Security, Global Environmental Politics, International Law and Organization, International Relations, International Relations Theory, Model United Nations, and Politics of Weapons of Mass Destruction.
My Books:
Other Recent Publications:
Kirsten Taylor,  "Nuclear Weapons: A New Arms Race?" Foreign Policy Issues for America, edited by Richard W. Mansbach and James M. McCormick, Routledge, 2019, 133–147.
Richard W. Mansbach and Kirsten Taylor, "The North Korea Crisis: Proliferation of Nuclear Weapons and the Threat of Nuclear War." Chapter in Fu-Lai Tony Yu and Diana S. Kwan, eds. Contemporary Issues in International Political Economy. (Gateway East, Singapore: Palgrave Macmillan), 2019