I am Professor of History at Berry College (Mount Berry, Ga., USA), where I have been teaching since 2006. I received my Ph.D. in Modern European History from Indiana University-Bloomington where I worked with the late William B. Cohen. I live in Rome, Georgia, with my wife Noemi and our two sons Marlon and Ivan. 
Below are links and information regarding some of my publications. Click the following link for my current c.v. — M Stanard CV
Contact information: 2277 Martha Berry Hwy NW, Mt. Berry, GA 30149-5010 / 706.290.2157 / mstanard@berry.edu
Decolonising Europe? Popular Responses to the End of Empire offers a new paradigm to understand decolonization in Europe, showing it was a fluid process of fluxes and refluxes involving not only transfers of populations, ideas, and sociocultural practices across continents but also complex intra-European dynamics at a time of political convergence following the Treaty of Rome.  The revised meaning of "decolonization" that emerges challenges scholars in several fields. The question mark in the title asks not only how European cultures experienced the "end of empire" but also the extent to which this is still a work in progress.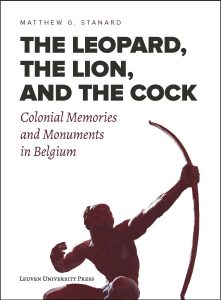 The Leopard, the Lion, and the Cock: Colonial Memories and Monuments in Belgium.
Leuven University Press, 2019
"Stanard has tabulated 443 statues, busts, monuments, plaques, and Belgian street names honoring events in colonial history, or Belgian soldiers, missionaries, and officials who worked in the Congo. . . . Statues and monuments express honor and legitimacy.  Stanard, the author of an interesting earlier book on Belgian colonial propaganda and a well-informed scholar of imperialism, fully knows how much its legitimacy is questioned today." Adam Hochschild
"This book is timely and will certainly be a useful contribution to the public debate. It presents, for the first time, an impressive overview of the colonial remnants in the Belgian land- and cityscape." Guy Vanthemsche, VUB
European Overseas Empire, 1879-1999: A Short Hi
story. Wiley, 2018.

Thousands of years of recorded history show that the main way in which human societies have been organized is as empires. Today, the evidence of recent European overseas empire's lasting effects is all around us: from international frontiers and fusion cuisine to multiplying apologies for colonial misdeeds. European Overseas Empire, 1879-1999: A Short History explores the major events in this critical period that continue to inform and affect our world today.
Selling the Congo: A History of European Pro-Empire Propaganda and the Making of Belgian Imperialism. University of Nebraska Press, 2011
A "fascinating history of Belgium's 20th-century colonial culture." (The Wall Street Journal, 3/12/12)
Available in paperback at Univ. of Nebraska Press and amazon.com.
European Empires and the People: Popular Responses to Imperialism in France, Britain, Netherlands, Belgium, Germany, and Italy. With John M. MacKenzie (editor), Giuseppe Finaldi, Bernhard Gissibl, Vincent Kuitenbrouwer, Berny Sèbe. Manchester University Press, 2011
European Empires and the People is available in paperback and hardcover at amazon.com and Manchester University Press.
---
PUBLISHED ARTICLES AND BOOK CHAPTERS

"Competing Visions: The Visual Culture of the Congo Free State and Fin de Siècle Europe." Historical Reflections/Réflexions Historiques, vol. 46, no. 3 (2020).
"Lumumba's Ghost: A Historiography of Belgian Colonial Culture." The MacKenzie Moment: Essays Presented to Professor John M. MacKenzie. Eds. Martin Farr and Stephanie Barczewski. Palgrave Macmillan, 2019.
"Revisiting Bula Matari and the Congo Crisis: Successes and Anxieties in Belgium's Late Colonial State." Journal of Imperial and Commonwealth History 46, no. 1 (2018): 144-168.
"'Il passato (coloniale) non è affatto morto, anzi non è nemmeno passato': la storia dell'imperialismo, la decolonizzazione e le culture europee dopo il 1945." Translated by Guido Mattia Gallerani. Special issue of Scritture Migranti: Rivista di Scambi Interculturali, issue "Europa/Europe," vols. 9-10. 2018.
"Post-1945 Colonial Historiography and the New Imperial History." In The Colonial Past in History Textbooks: Historical and Social Psychological Perspectives, edited by Karel Van Nieuwenhuyse and Joaquim Pirès, pp. 13-30. International Review of History Education series, Information Age Publishing. Forthcoming 2018. Flyer – The Colonial Past in History Textbooks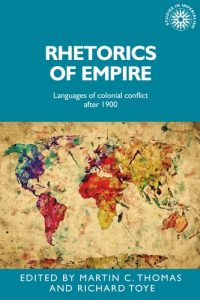 "'Boom! Goes the Congo': The Rhetoric of Control and Belgium's Late Colonial State." In Rhetorics of Empire: Imperial Discourse and the Language of Colonial Conflict after 1900, edited by Martin Thomas and Richard Toye. Manchester: Manchester University Press, 2017.
"Après nous, le déluge: Belgium, Decolonization, and the Congo." In The Oxford Handbook of the Ends of Empire, edited by Martin Thomas and Andrew Thompson. Oxford University Press, online 2017, print 2019.
"Belgian Colonial Rule." In Oxford Bibliographies in African Studies, edited by Thomas Spear. Revised edition. New York: Oxford University Press, July 2017.
"The colonial past is never dead. It's not even past: His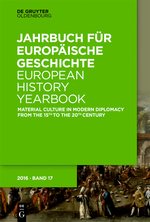 tories of Empire, Decolonization, and European Cultures after 1945." Jahrbuch für Europäische Geschichte/European History Yearbook. Invited peer-reviewed 2016 Forum article. December 2016.
"Interwar Crises and Europe's Unfinished Empires." In The Oxford Handbook of Europe 1914-1945, edited by Nicholas Doumanis. Oxford: Oxford University Press, 2016.
"Belgian Empire." In The Encyclopedia of Empire, edited by John M. MacKenzie. Wiley Blackwell.
"Belgium, the Congo, and Imperial Immobility: A Singular Empire and the Historiography of the Single Analytic Field." French Colonial History 15 (2014): 87-109.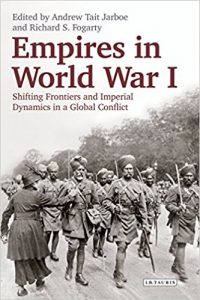 "Digging-In: The Great War and the Roots of Belgian Empire." In Empires in World War I: Shifting Frontiers and Imperial Dynamics in a Global Conflict, edited by Andrew Tait Jarboe and Richard S. Fogarty, pp. 23-48. London: I.B. Tauris, 2014.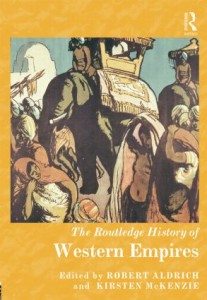 "Violence and Empire: The Curious Case of Belgium and the Congo." In The Routledge History of Western Empires, edited by Robert Aldrich and Kirsten McKenzie, pp. 454-467 (Abingdon, Oxon, UK: Routledge, 2013).
"Vendre le Congo: propagande pro-impériale et fabrique de l'impérialisme belge" In Nouvelle histoire des colonisations européennes (XIXe-XXe siècles): sociétés, cultures, politiques, edited by Amaury Lorin and Christelle Taraud, pp. 53-64. Paris: Presses universitaires de France, 2013.
"Belgian Colonial Rule." In Oxford Bibliographies in African Studies, edited by Thomas Spear. New York: Oxford University Press. June 2013.
"King Leopold's Bust: A Story of Monuments, Culture, and Memory in Colonial Europe." Journal of Colonialism and Colonial History 12, no. 2 (September 2011).
"'Made in Congo'? On the Question of Colonial Culture in Belgium." Bibliographic review essay of Congo in België: Koloniale cultuur in de metropool, Vincent Viaene, David Van Reybrouck, and Bambi Ceuppens, editors (Leuven: Universitaire Pers Leuven, 2009). Revue Belge de Philologie et d'Histoire / Belgisch Tijdschrift voor Filologie en Geschiedenis 88 (2010): 1301-1318.
"Interwar Pro-Empire Propaganda and European Colonial Culture: Toward a Comparative Research Agenda." Journal of Contemporary History, vol. 44, no. 1 (2009): 27-48.
"Imperialists without an Empire: Cercles coloniaux and Colonial Culture in Belgium after 1960." In The Human Tradition in Modern Europe, edited by Cheryl Koos and Cora Granata, 155-169. The Human Tradition around the World series. Lanham: Rowman & Littlefield, 2008.
"Selling the Empire between the Wars: Colonial Expositions in Belgium 1920-1940." French Colonial History, vol. 6 (2005): 159-178.
"'Bilan du monde pour un monde plus déshumanisé': The 1958 Brussels World's Fair and Belgian Perceptions of the Congo." European History Quarterly, vol. 35, no. 2 (2005): 267-298.
---
SELECTED REVIEWS

Review of European Elites and Ideas of Empire, 1917-1957 by Dina Gusejnova (Cambridge University Press, 2016). H-Empire. November 2018.
Article review of Anne-Sophie Gijs, "Fighting the red peril in the Congo. Paradoxes and perspectives on an equivocal challenge to Belgium and the West (1947-1960)," Cold War History 16: 3: 273-290. H-Diplo article review 696. 11 May 2017.
Review of The Burdens of Empire: 1539 to the Present, by Anthony Pagden (Cambridge, 2015). H-Empire. September 2016.
Review of Emanuele Saccarelli and Latha Varadarajan, Imperialism Past and Present (New York: Oxford University Press, 2015). H-Empire. 10 December 2015.
Review of Divided Rule: Sovereignty and Empire in French Tunisia, 1881-1938 by Mary Dewhurst Lewis (Berkeley: University of California Press, 2014). H-Diplo Roundtable Review. September 2014.
Review of Violence and Colonial Order: Police, Workers, and Protest in the European Colonial Empires, 1918-40 by Martin Thomas (Cambridge: Cambridge University Press, 2012). H-Diplo Roundtable Review XV, no. 5 (September 2013): 19-23. http://www.h-net.org/~diplo/roundtables/PDF/Roundtable-XV-5.pdf
Review of Dancing in the Glory of Monsters: The Collapse of the Congo and the Great War of Africa by Jason K. Stearns (PublicAffairs, 2011). H-Empire (http://www.h-net.org/~empire). June 2012.
Review of African Agency and European Colonialism: Latitudes of Negotiation and Containment, Femi J. Kolapo and Kwabena O. Akurang-Parry, editors (Lanham, Md.: University Press of America, 2007). H-French Colonial (http://www.h-net.org/~frenchco). November 2009.
Review of La Belgique et le Congo: Empreintes d'une colonie 1885-1980 by Guy Vanthemsche (Brussels: Complexe, 2007). Ex Plus Ultra. (http://www.arts.usyd.edu.au/publications/ex-plus-ultra/images/stanard.pdf). September 2009.
Review of Napoleon's Egypt: Invading the Middle East by Juan Cole (Palgrave Macmillan, 2007). H-French Colonial (http://www.h-net.org/~frenchco). June 2009.
Review of Murder in Marrakesh: Émile Mauchamp and the French Colonial Adventure by Jonathan Katz (Indiana University Press, 2006). H-French Colonial (http://www.h-net.org/~frenchco). April 2008.