The Medicinal Garden is located behind Dogwood Cottage and was created in coordination with the Biology, Environmental Science and Studies, and One Health Departments.
The Medicinal Garden features a walking path that meanders throughout the garden and QR code signage for each plant that when scanned, will bring you to an informational tab on this website which discusses the history, cultural significance, and biological features of the plant. The goal behind the Medicinal Garden is to inform those who walk through it of the influence these plants had on Indigenous groups in the area.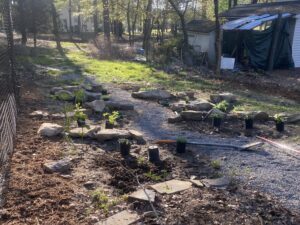 The Garden was built in the Spring of 2023. With the help of Dr. Campbell's Applied Anthropology students, the Garden was designed and constructed, and research was done on the cultural history of the featured plants.
There are currently 12 unique species of medicinal plants, and each one is native to the greater northwest Georgia area.
Throughout history, medicinal plants have been essential to health care systems within certain communities, and the Medicinal Garden aims to convey this importance through creating an educational experience for those who visit it.